Wikipedia Source & Permissions
Robbie Glover, is a British singer/songwriter from Leeds who was the first act in history to achieve 2 people's choice number one records with no label or management at the time, spending 12 consecutive weeks in the chart and voted by the people across Eastern Europe, of which he also was voted as the second most popular record of the year.

Robbie was originally a drummer, where at the age of 5 he recieved his first drum kit, joining the Leeds College Of Music's junior concert band which gave him the opportunity of playing the Royal Albert Hall through the college, he later went on as a singer/songwriter, which he toured the UK alongside successful chart acts, appearing on various Radio Roadshows, Christmas Light's Switch On's and appeared on the same roster as Cheryl Tweedy (Later known as Cheryl Cole)'s management at the time.
When Robbie achieved his first people's choice number one, he appeared on lots of various media including ITV, Channel 4, BBC, The Sun, The Stage, Vh1.Com, as well as coverage from the story making it's way to Yahoo Oz & Nz and Undercover Media (Australia) , the charts were often submitted and published in Teen Scheme Magazine over in the voting countries.
He also appears in the music video for Matt Goss' release 'I Need The Key' alongside Jeff Brazier, Brandon Block, Craig Charles and Bill Wyman of the Rolling Stones, which rotated on various music channels and was also shown on Never Mind The Buzzcocks.
He then flew over to Amsterdam where he wrote and recorded the track 'Hot Girls' which became the second people's choice hit, spending 12 consecutive weeks in the European radio chart, the track was remixed by Robbie T receiving massive club support and a vinyl was release that featured a version of John Legend's 'Save Room' alongside extensive radio play on BBC Radio One's 1xtra. This later lead to Robbie's track 'Hot Girls' appearing on the albums '100% Garage & Bassline' & '100 Hits Garage & Bassline' compiled by Ministry Of Sound and distributed via Sony & Demon Music in the UK and Internationally.
Robbie has recently worked with Dee Tails from the group MN8, who appears on the tracks 'Nasty Funk' and 'Gotta Get Away', both written by Robbie & Dee Tails and recorded with Oscar Lo Brutto (Engineer for Chipmunk and Wretch 32) , the tracks have been supported by DJ's nationwide including Matt 'Jam' Lamont and DJ Charma, as well as BBC Radio One's 1xtra, Ministry Of Sound and appearing on over 95% of the digital jukebox's in pubs and bars up and down the UK courtesy of Sound Leisure.
Alongside Dee Tails, Robbie has feature's from Bradley Mcintosh of S Club 7 on his track 'Hands Up' which was recorded and produced over in Essex.

Many of Robbie's tracks, such as 'Foolin'' have had releases in Spain and various other places via producers and DJ's releasing their own bootlegs inspired from his music.
Robbie Glover - Recorded Tracks
Got That Somethin'
Boogie On The Dance Floor
Word On The Street
Bounce
Foolin'
Tell Me Why
Hot Girls
Nasty Funk (Ft Dee Tails)
Hands Up (Ft Bradley Mcintosh)
I Wanna Know
Gotta Get Away (Ft Dee Tails)


---

This work is licensed under a Creative Commons Attribution-ShareAlike 3.0 Unported License
Images
Robbie Glover - Image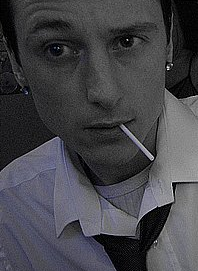 100 Hits CD in HMV (Ft Robbie Glover 'Hot Girls')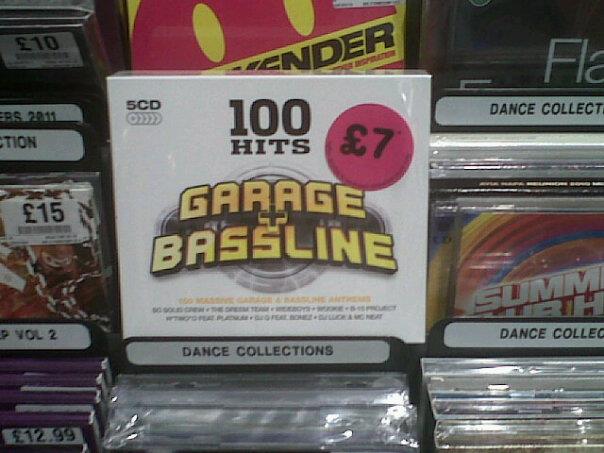 The Vinyl Release (Ft John Legend)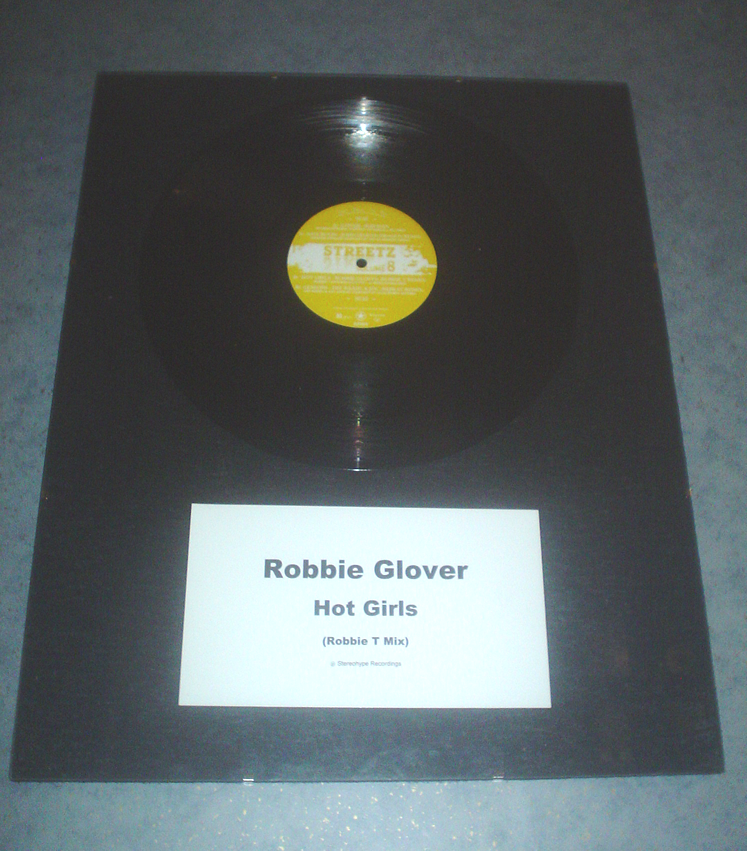 100 Hits Garage And Bassline - Featuring 'Hot Girls'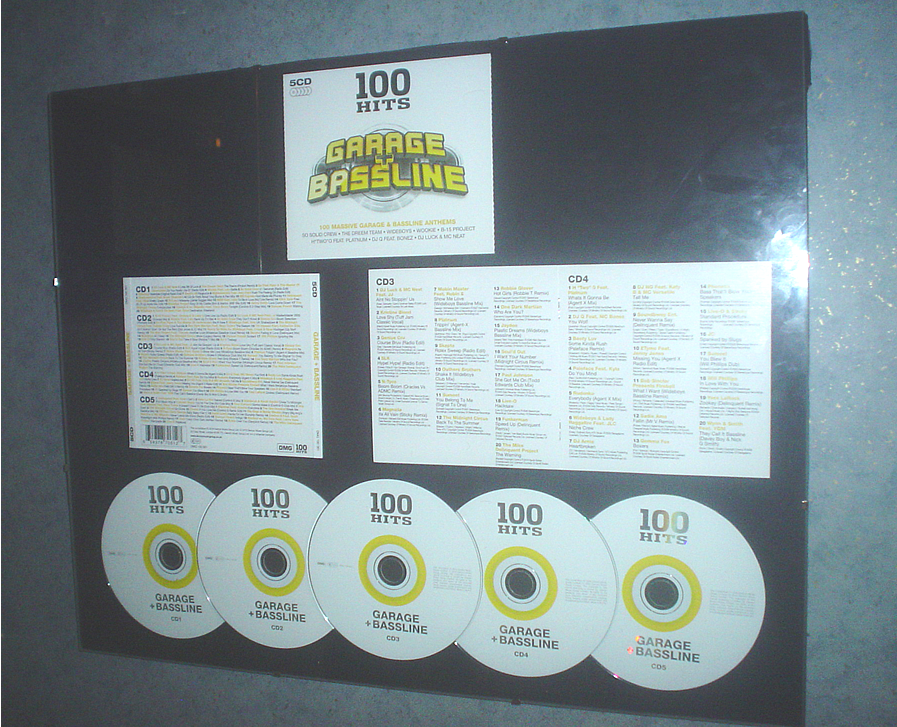 100% Garage & Bassline - Featuring a version of 'Hot Girls' - Compiled by Ministry Of Sound & Distributed by Sony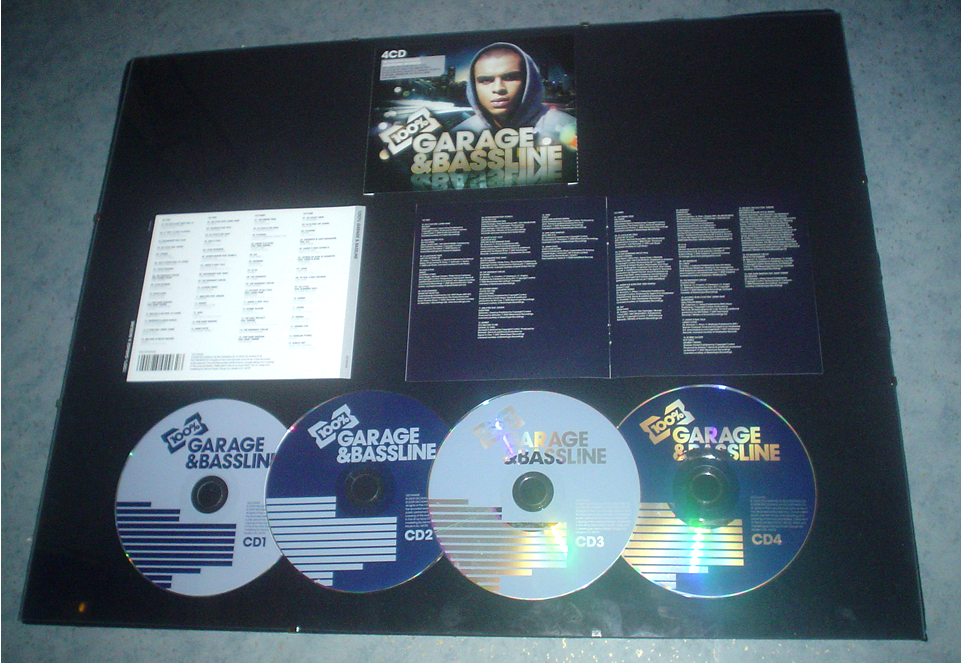 Nasty Funk Featuring Dee Tails from MN8 - Presentation featuring Dee Tails' hand written lyrics for the rap on 'Nasty Funk', a signed Japanese
MN8 single for the huge hit 'I've Got A Little Something For You' and the 'Nasty Funk' promotional discs.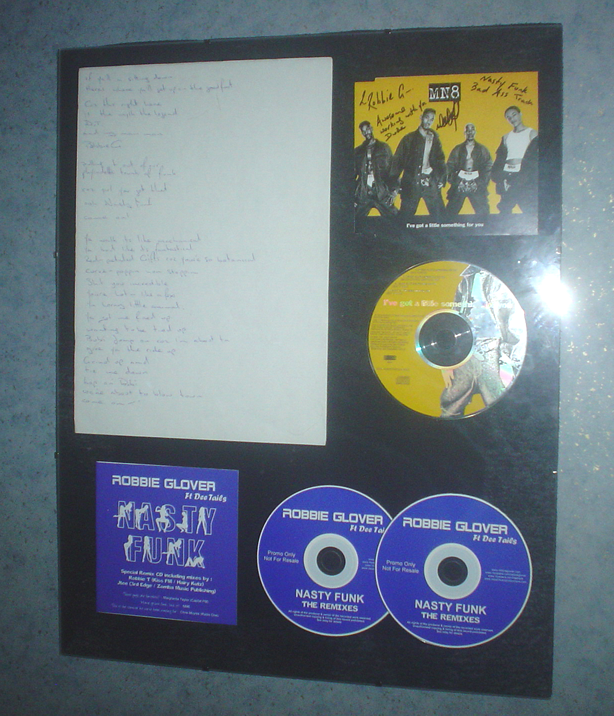 Collection of presentations together featuring Robbie Glover's releases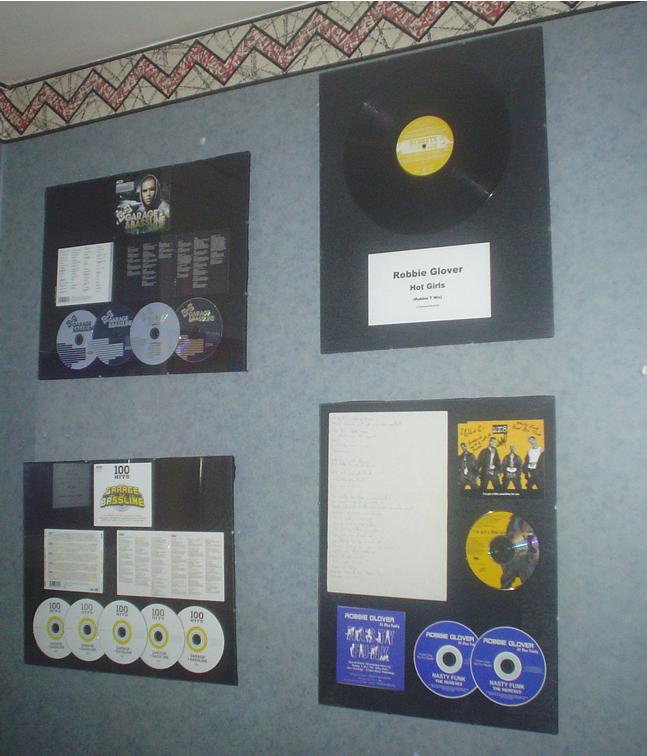 Article in The Stage regarding the hit of the year which knocked U2 from the top of the chart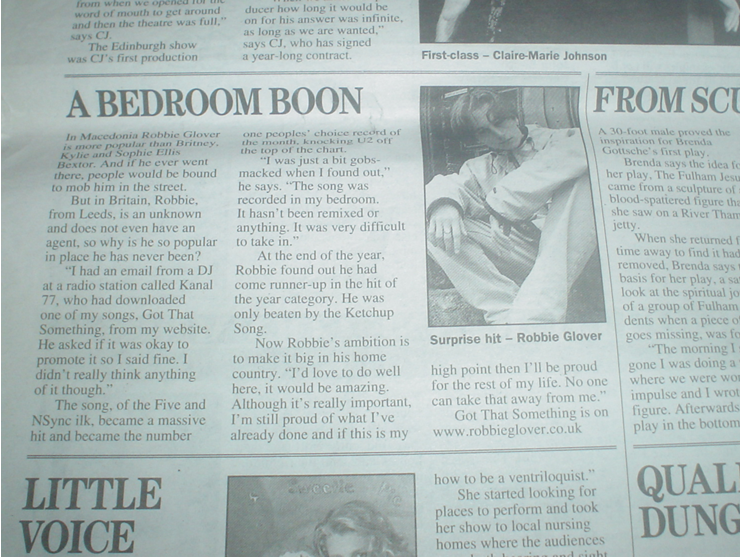 Article in page 3 of The Sun regarding people's choice number one